Faculty Biographies
May 15–16, 2021
Virtual Meeting
Elias Jabbour, MD
The University of Texas MD Anderson Cancer Center, USA
Elias Jabbour, MD, is professor of medicine, Department of Leukemia, at The University of Texas MD Anderson Cancer Center (MDACC), Houston, TX. He graduated from the Saint Joseph University School of Medicine, Beirut, and joined the Hotel Dieu de France University Hospital as a resident. He pursued a fellowship in hematology-oncology at the Gustave Roussy Institute, France. In 2003, he joined MDACC as a fellow in the Department of Hematology/Leukemia and Stem Cell Transplantation. He later joined the faculty in the Leukemia Department as assistant professor.
Dr Jabbour is actively involved in research both in acute and chronic forms of leukemia. He is currently investigating an innovative strategy combining new monoclonal antibodies such as inotuzumab ozogamicin, a conjugated anti-CD22 antibody, and blinatumomab with minimal chemotherapy. If successful, such strategies will likely increase the cure rates of adult patients with ALL to the high level achieved in pediatric patients.
Dr Jabbour has taken an active role in the medical community, participating in numerous scientific meetings. He has authored or co-authored numerous publications (>550 peer-reviewed publications) and abstracts, and serves as a reviewer for many scientific journals.
Patrick A. Brown, MD
Johns Hopkins University School of Medicine
Dr Patrick Brown is associate professor of oncology and pediatrics and director of the Pediatric Leukemia Program at the Sidney Kimmel Comprehensive Cancer Center at Johns Hopkins University School of Medicine in Baltimore, MD.
Dr Brown earned a bachelor's degree in engineering from the United States Military Academy in West Point, NY, and a master's degree in philosophy and politics from Oxford University in England. After earning his medical degree from the Medical University of South Carolina in Charleston, Dr Brown was an intern and resident in pediatrics at Johns Hopkins, and subsequently completed a joint clinical fellowship with Johns Hopkins and the National Cancer Institute in pediatric hematology/oncology.
Dr Brown is the vice chair for relapse and an executive steering committee member of the ALL Committee in the Children's Oncology Group, and chairs the National Comprehensive Cancer Network's Clinical Guidelines Panels for adult and pediatric ALL. His research focuses on developing molecularly targeted therapies for high-risk childhood leukemias.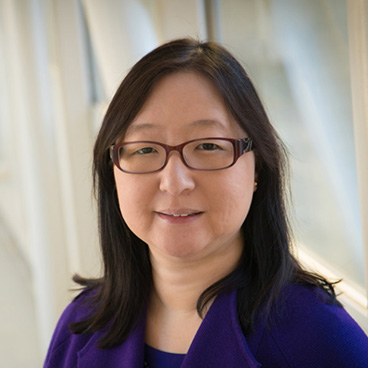 Eunice Wang, MD
Roswell Park Comprehensive Cancer Center, USA
Dr. Eunice Wang is the Chief of the Leukemia Service at Roswell Park Comprehensive Cancer Center. Dr. Wang joined the Roswell Park faculty in 2003 and was appointed to the Leukemia Service of the Department of Medicine. She earned her medical degree from the Keck School of Medicine, University of Southern California and completed residency training in Internal Medicine at Yale-New Haven Hospital, Yale University, New Haven, CT in 1999. From 1999 to 2003, she completed a clinical hematology-oncology and research fellowship at Memorial Sloan Kettering Cancer Center in New York, NY.
She is licensed in New York State and is certified by the American Board of Internal Medicine (Internal Medicine 1999; Medical Oncology, 2002; Medical Hematology, 2004). She also is an Assistant Professor, School of Medicine & Biomedical Sciences, University of Buffalo. She is a member of the American Society of Clinical Oncology, American Association for Cancer Research, and American Society of Hematology.
Dr. Wang's clinical research focuses on the development of early stage clinical trials for acute leukemias (AML, ALL) and myeloproliferative disorders. Her translational research interests involve the development of novel biological therapies targeting the bone marrow microenvironment for myeloid malignancies. Dr. Wang has authored/co-authored over 90 peer-reviewed articles, multiple book chapters, and editorials. She is a prior recipient of a NIH Cancer Clinical Investigator Team Leadership Award (CCITLA) in recognition of her contributions to clinical cancer research and a Mentored Research Scholar award from the American Cancer Society. In addition to her research, Dr. Wang maintains an active clinical practice.
José Maria Ribera, MD
Catalan Institute of Oncology, University Hospital Germans Trias i Pujol, Spain
José Maria Ribera is chief of the Clinical Hematology Department and the Stem Cell Transplantation Unit at the Catalan Institute of Oncology University Hospital 'Germans Trias i Pujol' in Badalona, Barcelona, Spain. He is also a professor of medicine and hematology at the Autònoma University of Barcelona. After gaining his medical degree, Prof Ribera specialized in hematology at the Hospital Clínic Barcelona, before completing his PhD in the Clinical Hematology Department.
Prof Ribera's main areas of scientific interest include acute lymphoblastic leukemia (ALL) and lymphomas arising in HIV-infected patients. President of the foundation of the cooperative Spanish Hematology Treatment Program (PETHEMA) and chairman of the PETHEMA Adult ALL Program, Prof Ribera is a member of the steering committee of the European LeukemiaNet and of the European Working Group for Adult ALL (EWALL). A reviewer for many hematology and oncology journals, he has authored or co-authored more than 485 articles in international peer-reviewed journals (H index 60), as well as 100 book chapters on hematology and oncology.
Aaron Logan, MD, PhD
UCSF, Helen Diller Family Comprehensive Cancer Care
Dr Aaron Logan is associate professor of clinical medicine, chair of the Hematologic Tissue Use Oversight Committee, and director of the Hematologic Malignancies Tissue Bank at the University of California, San Francisco (UCSF). He earned his medical degree, and PhD in molecular microbiology and immunology, from the Keck School of Medicine of the University of Southern California. He completed a residency in internal medicine, and fellowships in hematology and blood and marrow transplantation at Stanford University School of Medicine, CA.
Dr Logan specializes in the management of patients with hematologic malignancies, particularly those treatable by transplantation with allogeneic hematopoietic stem cells, including acute leukemias, myelodysplastic syndrome, chronic lymphocytic leukemia, aplastic anemia, and hemophagocytic lymphohistiocytosis. In his role as director of the Hematologic Malignancies Tissue bank at UCSF, he collaborates with many investigators on elucidating the etiology of, and possible treatment for, various blood cancers, including leukemia, lymphoma, and myeloma. Dr Logan and his laboratory are interested in methods for evaluating clonotypic diversity in the B and T lymphocyte repertoires in patients, particularly following hematopoietic cell transplantation when used to treat blood cancers, bone marrow failure disorders, and congenital immune deficiencies. Methods used in the laboratory currently include T-cell receptor excision circle and kappa-deleting recombination circle quantification, high-throughput sequencing of immunoglobulin and T-cell receptor genes, and in vitro mixed lymphocyte reactions to identify T cells with specific reactivities. Efforts in the lab are focused on the application of immune repertoire profiling to quantify and track malignancy-, pathogen-, and autoantigen-targeted immune responses following allogeneic transplantation, as well as use of this platform to quantify measurable residual disease in lymphoid malignancies. In Dr Logan's lab, the Hematologic Malignancies Tissue Bank at UCSF has been built into a robust resource for samples isolated from patients with a wide diversity of blood cancers and following transplantation. These samples are made available in a deidentified manner to the UCSF and larger research community for cooperative discovery.
Dr Logan is a member of the American Society of Hematology, American Society for Blood and Marrow Transplantation, and the National Comprehensive Cancer Network Electronic Health Record Advisory Group. His research has appeared in numerous peer-reviewed journals, including Clinical Cancer Research, Blood, Biology of Blood and Marrow Transplantation, and Journal of the National Comprehensive Cancer Network.
Lia Gore, MD
University of Colorado, Anschutz Medical Campus, USA
Dr Lia Gore is a professor with tenure at the University of Colorado School of Medicine, and chief of pediatric hematology/oncology/bone marrow transplant-cellular therapeutics at Children's Hospital Colorado and the University of Colorado School of Medicine. She received her MD from George Washington University School of Medicine and Health Sciences in Washington, DC. She completed her internship in pediatrics at Children's National Medical Center, and her pediatrics residency training and pediatric hematology/oncology fellowship and further postdoctoral training at the University of Colorado and Children's Hospital Colorado.
Dr Gore's research interests are focused on the development of novel cancer therapeutics, with an emphasis on pediatric and hematologic malignancies and improving access to clinical trials for children and adolescents. Her focus is on particularly high-risk diseases such as relapsed leukemia, sarcoma, and central nervous system tumors. She has been a principal investigator (PI) or co-investigator on more than 250 national and international clinical trials, including as the PI for trials leading to the approval of 4 drugs for childhood cancer.
Dr Gore serves on advisory panels of the Oncologic Drugs Advisory Committee to the US Food and Drug Administration, the Developmental Therapeutics and Department of Defense Study Sections of the National Institutes of Health, and has advised the European Medicines Agency on pediatric investigational plans for oncology products. She has directed a research study portfolio of over $30 million dollars. She is a founding co-director of the University of Colorado National Cancer Institute-designated Comprehensive Cancer Center's hematologic malignancies program. Dr Gore currently serves as a co-director of the developmental therapeutics program, and on the executive committee for acute lymphoblastic leukemia. She is the newly elected groupwide vice chair for the Children's Oncology Group.